Productize Pathway™ Online Classes
Are you ready to enhance your product development skills? Our extensive courses on product innovation and customer insights provide the perfect solution. Regardless of your level of expertise, whether you're just beginning with our Foundations course or ready to delve into the intricacies of our Masterclass, you'll acquire the skills and knowledge required to establish a product-oriented culture that produces desirable outcomes.
Our Masterclass in Product Innovation is designed to take your product development skills to the next level by focusing on the common pitfalls that Product Teams face. This in-depth course is centered on the seven most prevalent mistakes that teams make on their journey toward successful productization. You'll gain the skills and insights required to identify these mistakes, avoid making them, and pivot when necessary.
Throughout the class, you'll learn about the key elements of successful productization, including identifying customer needs, developing product ideas, and creating a culture that fosters innovation and collaboration. You'll explore each of these areas in detail and learn how to apply these principles to your own product development process.
The course emphasizes the importance of avoiding common mistakes that can derail your product development journey. From failing to define a clear product vision to misjudging customer needs or overlooking critical feedback, our Master Class will provide you with the tools to identify these issues and address them head-on.
The Master Class in Product Innovation is the perfect course for those who want to take their product development skills to the next level. With a focus on avoiding common mistakes and building a culture that supports innovation and success, this course will equip you with the skills and knowledge necessary to succeed in the competitive world of product development.
Investment: $579
45 Minute Course
Immediate Access to the Video
Includes Resources (Templates and Worksheets)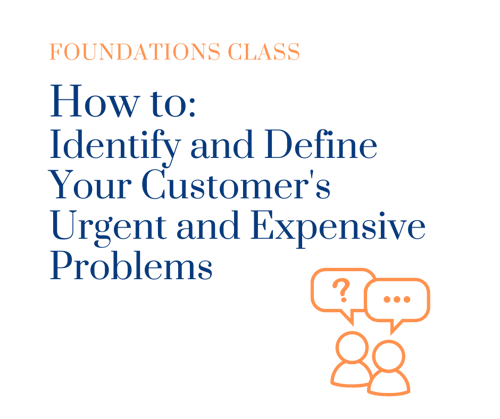 The Foundations Class dives into How to Identify and Define your Urgent and Expensive Customer Problems. We'll give you best practices for creating hypotheses, interviewing customers, and analyzing their feedback to gain deep insights into their pain points and needs. This course is essential for anyone involved in the development of products.
The course begins by introducing the concept of customer problem identification and defining what constitutes an urgent and expensive customer problem. The facilitator will explain how to use various tools and techniques to generate hypotheses about customer problems and then validate those hypotheses by conducting interviews with customers. They will also teach you how to conduct effective customer interviews, including how to ask the right questions and how to listen actively to what customers say.
In addition to teaching you how to identify and define customer problems, we will also cover how to analyze customer feedback to gain insights that can inform product development. You will learn how to identify patterns in customer feedback and how to use those patterns to prioritize the most urgent and expensive customer problems to solve. You'll also learn how to create a roadmap for addressing these problems and how to communicate that roadmap effectively to stakeholders.
Overall, the Foundations Class is an essential tool for anyone who wants to develop successful products or services. By mastering the techniques taught in this course, you will be able to identify and solve urgent and expensive customer problems, leading to greater customer satisfaction and increased revenue for your business. The Foundations Class is an essential resource for anyone looking to build successful productized services.
Investment: $129
30 Minute Course
Immediate Access to the Video
Includes Resources (Templates and Worksheets)
Optimize Your Investment: Purchase Both Classes NOW
Foundations Class &
Masterclass Package
Two Online Recorded Classes

Immediate Access to the Videos

Includes Resources for Both (Templates and Worksheets)
Includes 10% Discount
Investment: $637