Vecteris' Productize Maturity DiagnosticTM helps you better understand the strengths and weaknesses of your team's product innovation and product management capabilities. Our method helps organizations avoid innovation pitfalls, be more customer-focused, innovate faster, and create a product-friendly culture.

​The diagnostic will ask you a series of questions around 26 productization activities across 7 innovation areas. Once you've completed 20-minute the assessment, the Vecteris team will review your results and provide you with a personalized report highlighting your most important capability gaps and providing you with benchmarks and a roadmap for improvement.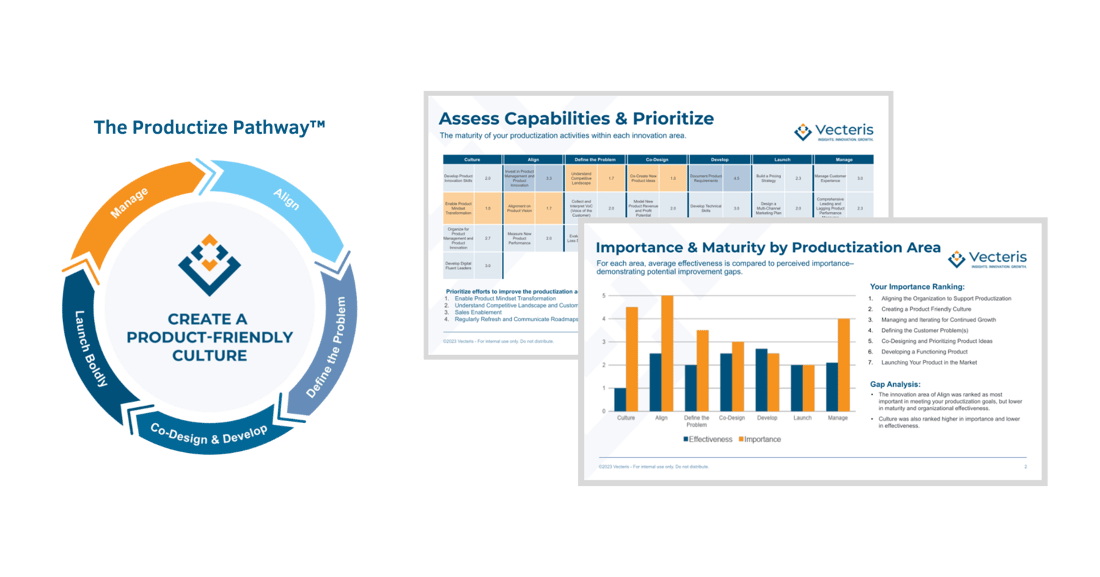 At Vecteris, we believe that the Productize Maturity Diagnostic™ can help you accelerate your new product innovation efforts and increase your likelihood for success.
HOW DO YOU RATE?
---
What people are saying about the Productize Maturity Diagnostic™
"The assessment not only helped me quickly understand where my team has skills and capacity gaps but having it clearly mapped out also helped me communicate to my team what good product development should look like." - CPO, Management Consulting



"The diagnostic was thoughtful and delved into important aspects of product maturity. It made me excited about where we can continue to grow in formalizing processes and creating transparency internally."

- Head of Product, Business Consulting & Services



"Product Management is a pretty new idea for our company. I like the way Vecteris clearly lays out all the important areas to consider. Our team has used this Assessment to help determine where we need to hire and where we need additional training and development." - CEO, Government Relations Services
---
For organizations that need to develop tech-enabled products to grow, have Vecteris facilitate a workshop with your leadership team to examine your results and plan next steps.
Learn more about our Productize Pathway™ program to avoid costly mistakes & accelerate growth