We hope you've read and enjoyed Productize. If you haven't read it yet, you can learn more about the book here

.
The tools cover everything you need throughout each stage of the Productize Pathway

:

from developing a product friendly culture to successfully managing your product in the market. Either way, enter your details below to

get free access to 25 tools and templates

that can help professional service firms develop products and tech-enabled services.
​Fill out the form below to get access to these tools: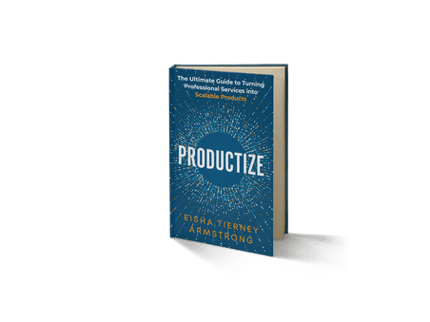 ​Creating a "Product-Friendly" Culture
Competencies of Good Product Managers

Sample Product Management Job Descriptions
​Align to Support Innovation
Product Strategy Template

Product Portfolio Scoring Template

Product Portfolio Matrix Template
Define the Urgent and Expensive Problem
Customer Needs Identification Worksheet

Sample Root Cause Analysis

Competitor Research Checklist

Competitor Comparison Grid

Competitive Analysis Templates​

Customer Interview Guidelines and Questions

Sample Interview Deck and Questions

Voice of the Customer Insight Tracking Template

Customer Advisory Board Creation Checklist

Sample Survey Questions​
Manage and Iterate
Product SWOT Analysis Instructions

Product Feature Scoring Template​​​
Launch Boldy
Positioning Statement Template

Multi-Channel Marketing Campaign Template​

Go-to-Market Checklist and Templates

Product Roadmap Templates

Product Portfolio Roadmap Template
​Co-Design and Develop
Charter Customer Advisory Board Guide

Product Strategy for Developers Template​
Scaling any business is challenging, even more so for professional services businesses. Productize is a handbook for creating successful products that complement existing services, allowing your business to grow revenue without adding costs at the same rate - and without putting your existing business at risk. As Eisha says, 'That's the sweet spot.'"
-Christy Pretzinger, CEO at WriterGirl
Productize is a must-read for any leader of a services business who wants to scale their organization. It's a powerful playbook for how to create and launch successful products alongside a services business, including relatable case studies and a library of tools for your team to use.
​

-

Jennifer McCollum, CEO at Linkage
Fill out the form. ​Get the tools.