Productize Pathway™ Subscription
Vecteris is a subscription-based advisory company supporting B2B services companies to productize their offerings.
Productize Pathway™ is a comprehensive advisory and capability-building solution for organizations pursuing productization, designed to support both leaders and their teams.
Partner at Every Step of Your Productization Journey

Dedicated, always-on access to a Productization Coach to partner with along every step of your productization journey. Connect anytime for tailored, digitally-enabled support.
Bring New Products to Market Faster

Learn the Productize Pathway™ process and accelerate progress at key milestones with our Learn-By-Doing Productization Workshops.
Align On and Drive Productization Outcomes

Enable breakthroughs and accelerate progress through Vecteris-facilitated sessions such as quarterly product reviews, leadership alignments, and productization keynotes.
Execute Productization Efforts Faster and Easier

Access a library of customizable playbooks, templates, tools and best practices from leading B2B services organizations to get started on critical projects faster and cheaper.
Prioritize Productization Investments

Identify and close key capability and organizational gaps needed to achieve your productization strategy and objectives.
Leverage Peer B2B Services Insights

Access role-based peer groups for leaders and practitioners at B2B services companies pursuing productization to share ideas, get inspiration, and avoid mistakes.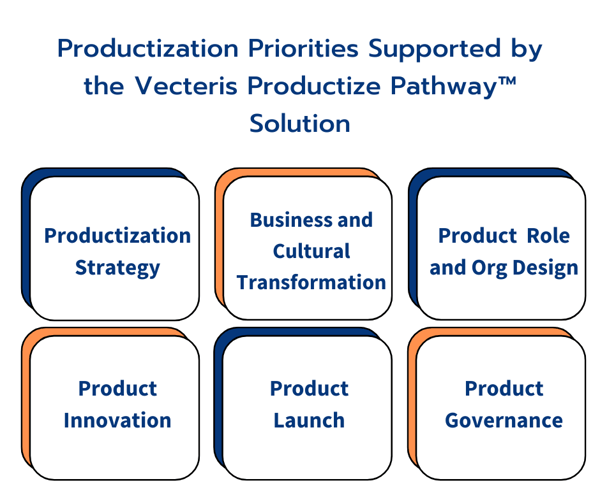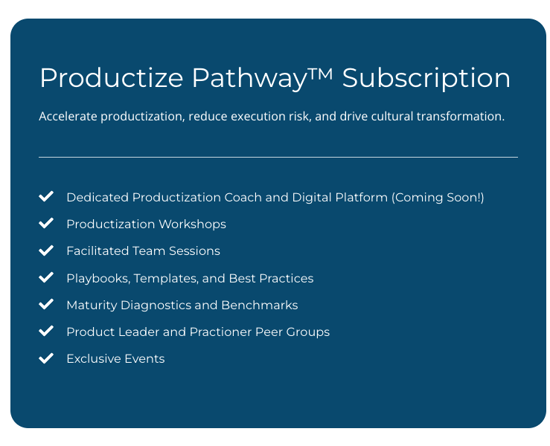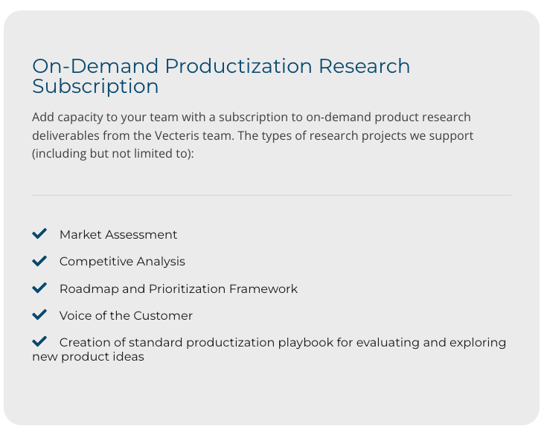 Representative Outcomes from Vecteris Partnership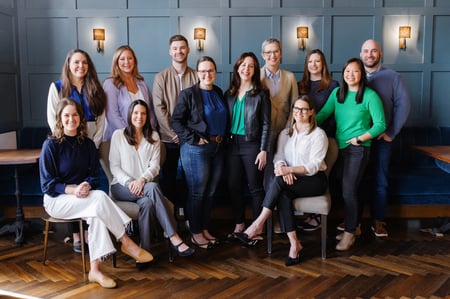 Vecteris Productization Pathway™ Subscription is an always-on solution that enables you to launch new products and tech-enabled services with speed and confidence.
Connect with a Productization Coach today to learn how to get started.