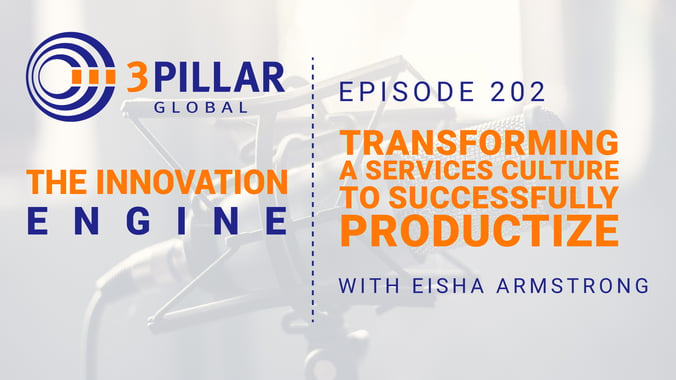 Episode 202 of

The Innovation Engine

podcast.
Productizing a services business is no small feat, but the benefits of doing so are vast: improved margins, increased productivity, higher company valuations, and less reliance on increasingly in-demand tech talent. Eisha Armstrong, CEO of Vecteris, joins us on this episode of The Innovation Engine to share more about how to turn a services company into a productized business.
Eisha has established herself as an authoritative voice in this space, having authored two compelling books: Fearless: How to Transform a Services Culture and Successfully Productize and Productize: The Ultimate Guide to Turning Professional Services into Scalable Products. With her deep understanding of the challenges faced by B2B services companies competing against digital-first companies and scaling efficiently, Eisha offers some insightful strategies and tips.
In this conversation, Eisha highlights the importance of setting clear goals to inform your productization approach, treating productization as a portfolio, and overcoming the fear of productization.
Listen in as Eisha and host Scott Varho unpack the essentials of a product-friendly culture, highlighting five levers: vision, organizational structure, governance, talent, and people-related practices. Finally, Eisha introduces us to the 'four horsemen of productization': Knowing, Perfectionism, Scarcity thinking, and Individual heroics. She breaks down this daunting task into something surmountable that anyone in a services organization can't afford to miss.
Episode Highlights
The challenge of productizing service offerings and strategies for success

The importance of treating productization as a portfolio of initiatives

The benefits of shifting to a product-oriented culture

The impact of changing buyer behavior on B2B services

How to balance the predictability of service with unique client needs

Why creating "bundled solutions" allow organizations to maintain a degree of service customization

The challenge in monetizing software for non-tech native companies

The essentials of a product-friendly culture