Finding Joy: Applying Innovation Practices To My Life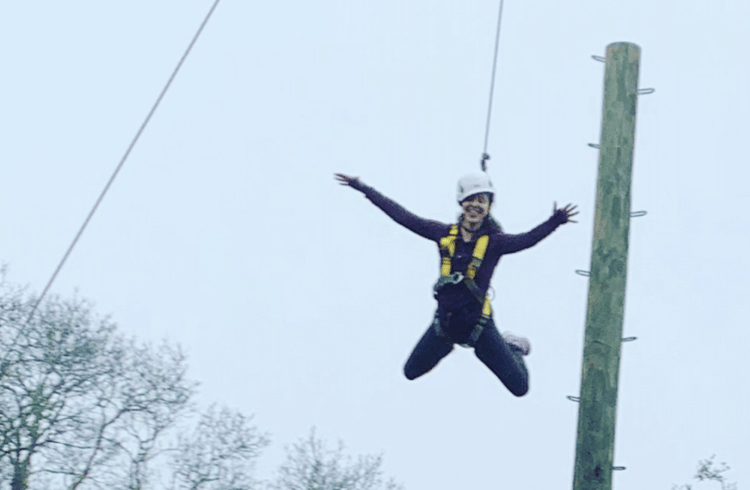 A few years ago, I read the book Designing Your Life by Bill Burnett and Dave Evans. The book describes how to use design thinking innovation practices to help people proactively explore and change their lives to make them more meaningful. More fulfilling. More joyful.
At the time, I had a deep longing to do something entrepreneurial, yet impactful, and I also wanted to start thinking about how my life would change as my children grew and became more independent. I thought the Design Your Life approach could be helpful because design thinking, when done well, helps us overcome constraints. And I felt very constrained. Constrained by my own expectations of what 'success' looks like, constrained by my mortgage, constrained by family demands on time.
To overcome constraints, design thinking helps us think more creatively and to experiment before committing significant resources to an idea. By applying the same innovation practices that I now coach companies through, I was able to "innovate" my life by charting a path to co-found Vecteris, to become a certified yoga teacher, and to be much more deliberate in how how I spent my time with my family. I have evolved the process a bit, bringing in ideas from Ayse Birsel's book, Design the Life you Love, and Danielle LaPorte's book The Desire Map.
Since we are very nearly post-pandemic (I hope), I want to share the process I use in case you want to step back and reimagine what might be possible in your life, both professionally and personally. What do you long for? What do you want to keep in your life post pandemic? What do you want to shed?
This process is not rocket science, but it mirrors the tried and true innovation process that I use with business clients and it has been so helpful for me to realize dreams I thought impossible, ultimately creating more joy in my life.
Step 1. Define the Problem
"Life innovation" work starts by defining what is working in our lives (and what is not). I do this by keeping an energy journal (suggested by Burnett and Evans) for 1-2 weeks. The journal aims to identify the activities, people, and places that give us joy (and those that drain our energy).
My first energy journal that I completed in 2017 revealed that the time I spent teaching, writing, and coaching was incredibly satisfying. The time that I spent creating reports and other administrative tasks was, to be honest, soul-sucking. A huge "a-ha" was how rewarding I found the time I spent doing work that elevated and empowered other women – whether through mentoring or helping to organize a women's employee resource group.
One of my friends, an executive at a large consumer goods company, kept an energy journal and she realized that the flower arranging class she was taking as a hobby brought her immense joy. Being able to make flower arrangements for her friends, take them to parties, and using them in her entertaining made her happier than she ever thought it would.
The energy journal is a great tool to uncover ways to innovate our lives to bring us more joy.
In addition to tracking the ups and downs of daily life, I also reflect on the quality of different areas of my life using a dashboard method. Ayse Birsel talks about it in her book, as do Bill Burnett and Dave Evans. Think of this as the same as scoring the different products in your product portfolio to help you determine where to focus improvement efforts.
It helps to think of it as a gas gauge on the dashboard of your car. Ask yourself, how full are you on all the different components that come together to create a well-lived life? How full are you on love? Relationships? Health? Spirituality? Financial? Career? Hobbies? In your physical environment?
The first time I did this, I realized I needed to focus on improving career satisfaction and spending more quality time with my boys.
The dashboard and the energy journal ultimately helps us identify the areas where we feel like we have the most opportunity for improvement.
Step 2: Generate and prioritize ideas
The next phase is to ideate and plan. To get started, I use mind mapping, a way to consider and present ideas visually. It is a thinking tool to structure information to analyze, comprehend, recall, and generate new ideas.
I recommend starting with a central idea and then building from there. As I mentioned, one of the things that brings me deep joy and gives me energy is doing work that elevates and empowers other women. So, one of the maps I developed centered on that. Each of its branches represents how I can directly help other women or actively contribute to larger social movements that empower women.
For example, after identifying that volunteer work could be a path to bring me more joy, I accepted a position on the board of Women Helping Women, a Cincinnati-based nonprofit that helps people affected by domestic violence.
The politics branch on this mind map is another one I've been heavily focused on both in the 2018 and 2020 cycles, using my time, money and connections to help support female candidates.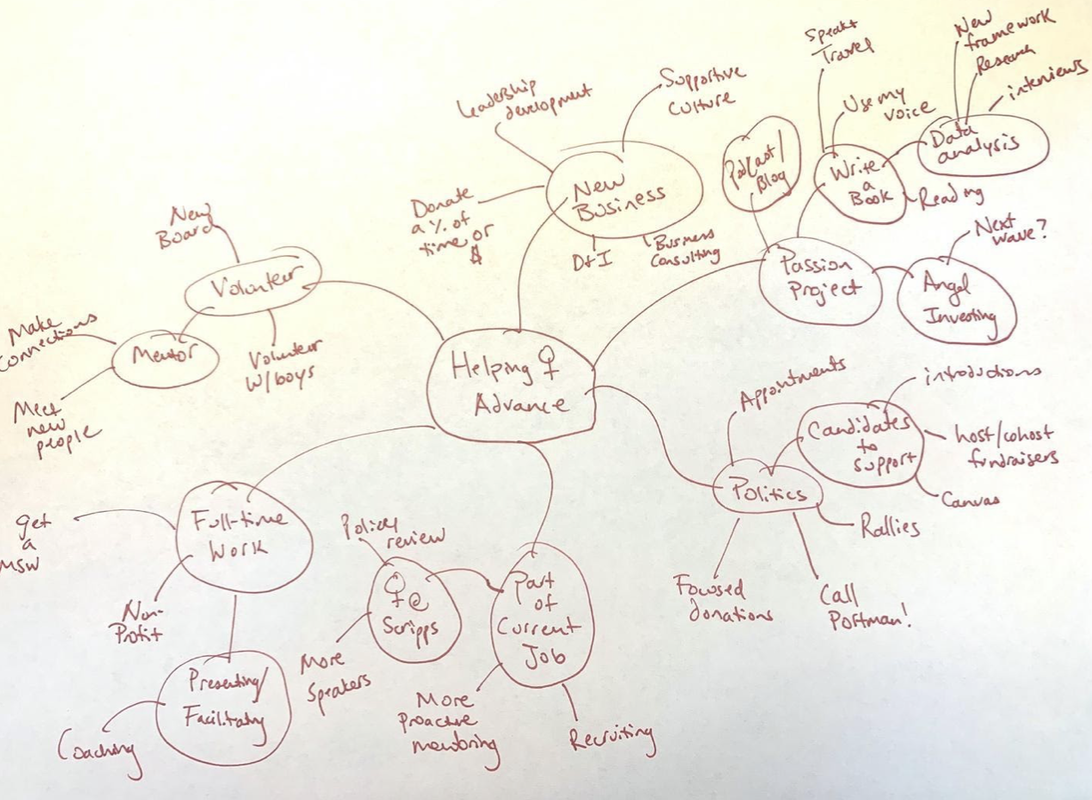 A finished mind map can help you see patterns or put disparate ideas together. It helped me realize the breadth of ways I could incorporate this passion into my life. For example, I could make it a crucial part of my work or include it as part of my volunteer time.
Step 3: Design Prototypes
After brainstorming all of the ways that we might bring more joy into our lives and spend more time doing things that give us energy, the next step is to develop three versions of a "roadmap" for how life might unfold for the next 3-5 years. I like using the three roadmap versions suggested by Evans and Burnett:
Current Life: the next steps for the path you're currently on.

An Alternative Life: if you weren't in this current journey, what would you be doing? Think of it as your Plan B.

A Moon-Shot Life: if money, time constraints and social expectations were no issue, what would your life look like?
My first ones focused on career, passion, and travel I could do with my family, but I've seen roadmaps that only focus on health, relationships, and finances. Here's my five-year roadmap from 2017. It is remarkable that most things on my 'Shoot for the Moon' life have come to fruition. I should have dreamed bigger.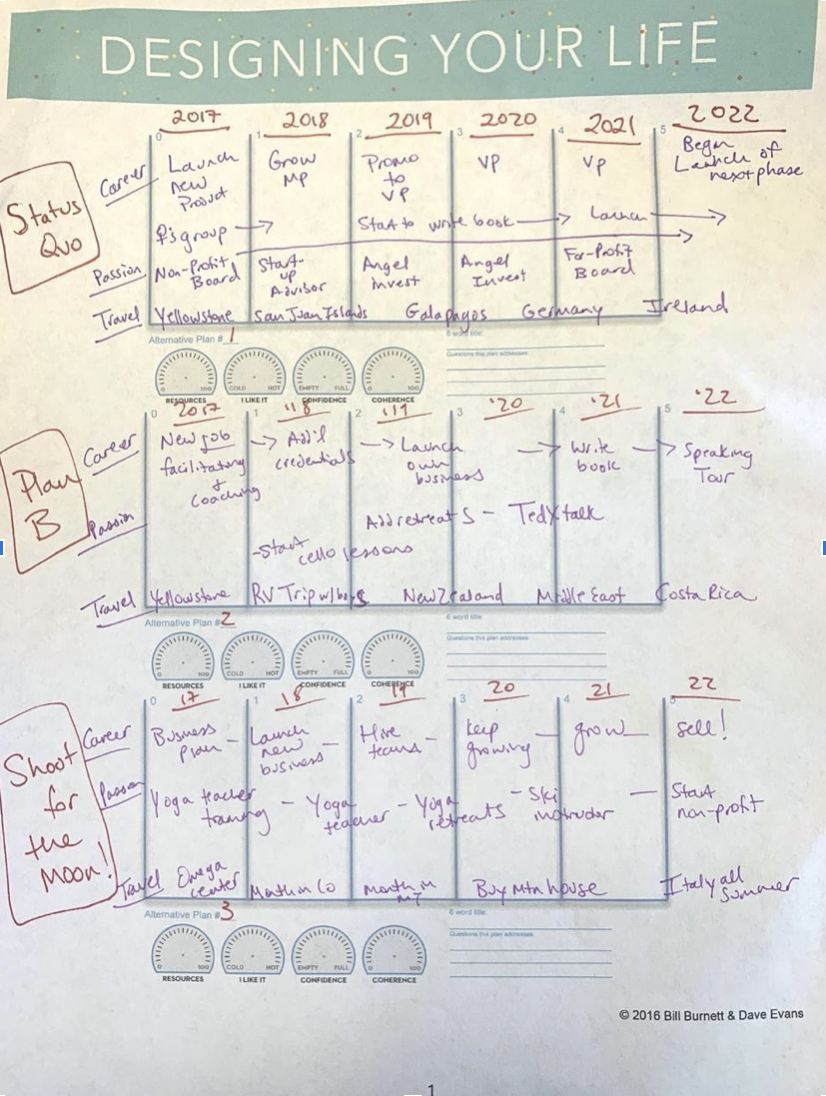 Step 4: Test the Prototypes
We build our life roadmaps around hypotheses that we need to test. For example, will I enjoy being a business owner? Would taking a month-long RV trip across the country with my teenage boys actually be fun? Or, in the case of my flower arranging friend, is there a limit to how much she loves flower arranging? Could this be a full-time career or just a hobby?
The first step in this phase is to test all of our ideas using prototypes or minimal viable products. For example, before renting an RV for a three-week cross-country trip with two teenage boys (it was pre-COVD, but yes, still, I honestly thought this would be a good idea), I prototyped it by renting an RV for a night and driving to a nearby campground. We hated the experience and I'm so glad we tested it before packing up for three weeks.
My flower arranging friend decided to test being a full-time flower designer in Paris by enrolling in a two-week course at a floral school in Paris. It turned out that it was not as much fun as she thought it would be. Now she knows the limits of her love for flower arranging and still finds joy in it by keeping it a hobby rather than a full-time endeavor.
Step 5: Take Action & Iterate
Product roadmaps are only dreams without detailed plans to implement them, to paraphrase Antoine de Saint-Exupéry ("A goal without a plan is just a wish"). Similarly, 3- to 5-year life "plans" are only dreams without more concrete action steps.
Borrowing a page from lean innovation principles, when setting life innovation goals, focus on milestones, so what will you do next week, next month, next quarter to move towards your vision.
We may also want to do many things in our 3- to 5-year life plan that may require small daily or weekly activities to achieve. For example, if I want to climb Mt Kilimanjaro next year, I need to book my guide and start my training plan this year.
Finally, we need to measure our progress. I find it most useful to protect time on my calendar weekly, monthly, quarterly to review my goals and plan my action steps. Here is the planning cadence that has been helpful for me: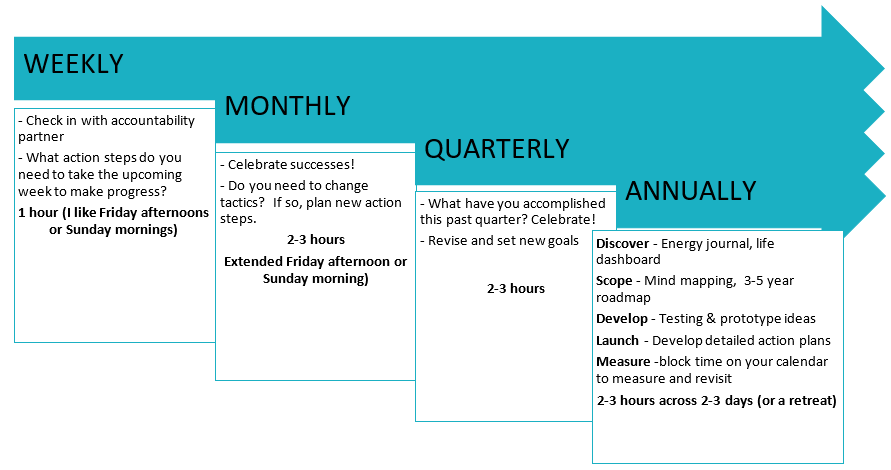 Most of this is done independently. But, independently doesn't mean alone. I have found that having the support of a group of people or a person such as an accountability buddy is vital for making our "life innovation" dreams a reality. In 2018, I started a Friday morning 30 minute phone call with an accountability buddy and it has been a game changer for me. We hold each other accountable, talk through obstacles we are facing, and offer feedback and encouragement along the way.
Again, I wanted to share my experience because it has worked so well for me in designing creative ways to pursue my dreams, despite constraints. Whether in life or with our businesses, it is rare for true innovation or transformation to happen without some "process" and my process follows the steps I outlined: defining the opportunity, designing and developing ideas to try, testing those ideas, creating plans, evaluating what is working, and continuing to iterate.
As always, if you want help innovating your business, please reach out.