Product Leader We Admire: Zach Hansen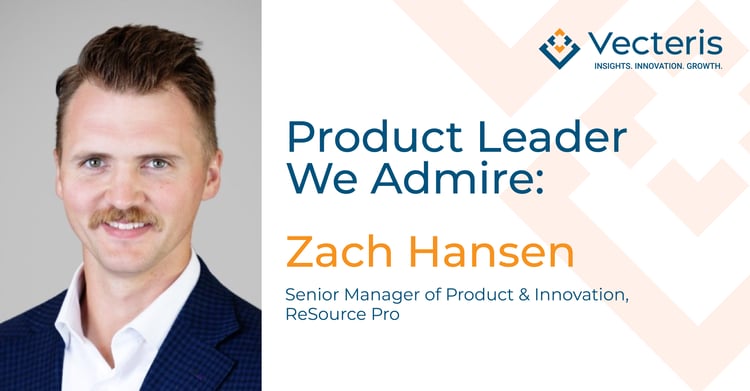 We frequently like to profile Product Leaders we admire, to help inspire you and your team. This month, we are excited to introduce you to Zach Hansen.
Favorite product book:
Zero to One by Peter Thiel and Blake Masters – this book takes a more abstract and high-level view of product. I love how this book focuses on innovation and how innovation can lead to transformational change in an industry.

Professional mantra or guiding principle:
Serve those you lead – as a Product Manager or Senior PM. As a PM, you often lead a cross-functional group that doesn't report to you. It is an interesting crossroads where you feel accountable for the successes tied to this group of people, but you have little to no authority as a leader. This "product paradigm" underscores the need for Product Leaders to be servant leaders, to show the cross-functional participants that you need them and trust them by serving them.

Best career advice you ever received:
I have two.

Listen First. Talk Second. – It's paramount that you listen to voices other than yours first, whether that be the market, your customers, your stakeholders, or your internal team, before you speak.

Just be Kind. – I actually received this advice outside the bounds of "career advice," but it has had a dramatic impact on my career. Being kind, regardless of who the other person is or what opinions they hold, is the key to driving meaningful change.
Favorite product launch you have been part of:
The Policy Insights Account manager portal - ReSource Pro's first operations-based user interface. It was so fun because my boss at the time, Andy Niver, gave me the reigns of Policy Insights and said: "go for it." It was like I was at my own mini start-up. Seeing that interface have such a dramatic impact on the success and growth of a product over the past 2 years has been amazing.