New Ways of Learning & Why You Need Them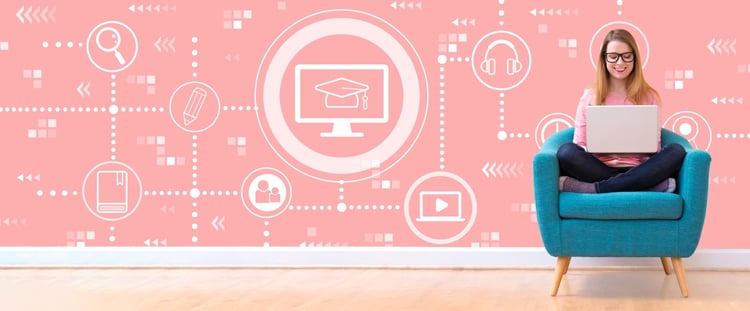 I am sure you would agree, technology has changed drastically since most of us were in school, probably, even, since most of us took the jobs we are in today. Yet, despite how true this may be, the data says we aren't doing enough to help ourselves, our employees, and our organizations adapt to these changes.
According to a recent survey by Gartner, 70% of employees report that they don't have mastery of the skills needed to do their jobs.
[1]
And 52% believe they need upskilling as a result of digitalization.
[2]
We can't afford to let our knowledge and skills stagnate. Top performing companies know this. A survey by IBM found that 84% of employees in the best performing organizations receive the training they need, compared to just 16% in the worst-performing organizations.
[3]
​Classroom-based, instructor-led training, while still valuable, cannot keep pace with today's technology-driven training needs. Science has deepened our understanding of how people learn—and we how can leverage technology to do it.
Learning Product Services
Vecteris has launched our Learning Product Services to help our clients in the learning & development space develop the products they first came to us to create the product strategy for. Here's a brief overview of the kind of learning product services we are recommending to our clients today.
Mobile & Social eLearning
We are tethered to our smartphones for socialization, business, and entertainment. Why not use it for education? Mobile learning solutions put learning into the hands of learners, allowing them to access the content at any time and in any place. It fulfills our expectations for on-demand services. Learning providers can offer their users "just-in-time and just-for-me" training. Think LinkedIn Learning, Coursera, or Smartly (the mobile MBA), who all provide off-the-shelf eLearning courses. Similarly, our mobile and social eLearning solutions give you the power to customize content and curriculum to meet the unmet needs of your learners.
Microlearning
Microlearning is also an eLearning solution, but it's taken in tiny chunks (typically, less than 5 minutes long). If you come from a more traditional learning background that required 15-week long semesters and $400 in textbooks, you might be inclined to dismiss microlearning as the lazy way out or consider it sub-par in some way. But, a 2015 study out of Germany shows that learners who received smaller bits of content took less time to answer test questions while still performing better.
[4]
Bottom line: microlearning is less time-consuming and less expensive than regular eLearning. It is also more engaging and results in higher information retention.
Instructor/Virtual Instructor-led Training
As much as eLearning has to offer, some things are better learned with a guide. That's why we also help organizations create rich, customized content that reflects their brand within a structured curriculum. Content can be delivered in person or virtually.
​
Virtual instructor-led training can involve scheduled courses on video conference platforms like Zoom, or through online classrooms with pre-recorded content and discussion board. This type of training allows the instructor and learner to engage from anywhere in the world.
We are excited about this work. We've bought on a team of seasoned instructional design and learning product development experts who have opened up a whole world of learning opportunities.
Workflow-Enabled Learning

​
Professional training no longer requires taking people away from work thanks to an innovative new approach — workflow-enabled learning. At the most basic level, workflow-enabled learning is a training strategy that empowers your team by incorporating "learning" into their daily "workflow" with convenient and intuitive online tools that help them address job challenges in real-time. The result is greatly expedited task completion.
Tracy Cyr
VP of Learning at Ariel and our CEO
Eisha Tierney Armstrong
's were recently featured in Training Industry Magazine. Learn about how their experience with workflow-enabled learning empowering teams to increase productivity.
http://bit.ly/37g26Ds
​
So, how's your organization meeting the training needs of your employees or customer-base? To help our client's kick-off 2020 strong, we are offering a limited number of "Learn to Learn" Coaching Sessions. If you are interested in talking to one of our experts on how you can use learning to support your product development send me a quick note.
[1]
https://hbr.org/2019/10/where-companies-go-wrong-with-learning-and-development
[2]
https://www.gartner.com/en/human-resources/role/learning-development
[3]
https://www.ibm.com/services/learning/pdfs/IBMTraining-TheValueofTraining.pdf
[4]
https://journals.sagepub.com/doi/abs/10.2190/ec.51.4.b
[5]https://trainingindustry.com/magazine/jan-feb-2020/workflow-enabled-learning-meeting-the-needs-of-the-modern-learner/