Molly Tipps Named VP of Advisory Solutions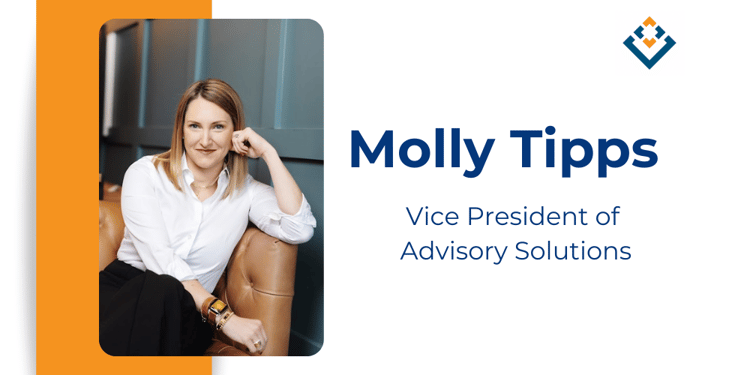 Vecteris has expanded the leadership team to guide our continued growth!
We are so delighted to announce the promotion of Molly Tipps to Vice President of Advisory Solutions. Molly brings nearly two decades of experience in management research and advising leaders on strategy, change management, and culture. After her impactful time in the role of lead consultant and the successful publication of the book she co-authored, Fearless, Molly's new mandate is to build the coaching and advisory function of Vecteris as we support customers via the Productize Pathway, a comprehensive advisory and capabilities-building solution for organizations pursuing productization.
Previously, Molly was at Gartner as a leader in the research and advisory group, responsible for creating thought leadership across a number of disciplines including Marketing, Sales, Finance, and HR. She specialized in presentation and facilitation, working directly with senior leaders to unpack the insights into their own strategies and processes.
The addition of Molly to our Leadership team strengthens Vecteris' capabilities and ensures that we remain at the forefront of driving impactful transformations within B2B Services organizations pursuing productization.
"Vecteris is known for being preeminent thought leaders in how B2B services companies scale through the innovation, digital transformation, and business model change we call productization. I'm thrilled to helm our coaching and advisory team as we help build our customers' product capabilities and continue to expand our own IP. There is such market demand for productization, and I'm passionate about helping drive this transformation for our customers."
- Molly Tipps, VP of Advisory Solutions
"Traditional professional services firms are turning to productization to grow, improve valuations, and fend off new digital-first competitors. Many will fail and waste money in the process. The Vecteris Productize Pathway is the only solution designed to help improve these success rates. Molly's vision for Vecteris and her own coaching capabilities will help us bring the Productize Pathway to more companies around the globe."
-Eisha Armstrong, Executive Chairman and Co-Founder
"For two years as a consultant here at Vecteris, Molly has distinguished herself as not only a trusted advisor to our most sophisticated clients but also as a team leader with a vision for Vecteris' growth. She has the right blend of strategic savvy and practical process acumen to differentiate the value we are able to deliver to our customers at Vecteris."
- Nicole Merrill, CEO and Co-Founder
Please join Molly and the Vecteris team for our next webinar on Sept. 14, 2023. Molly is our host, and the topic is one of her personal favorites, Aligning Leaders to Support Innovation. RSVP Here!