Product Leader We Admire: Anthony Donatelli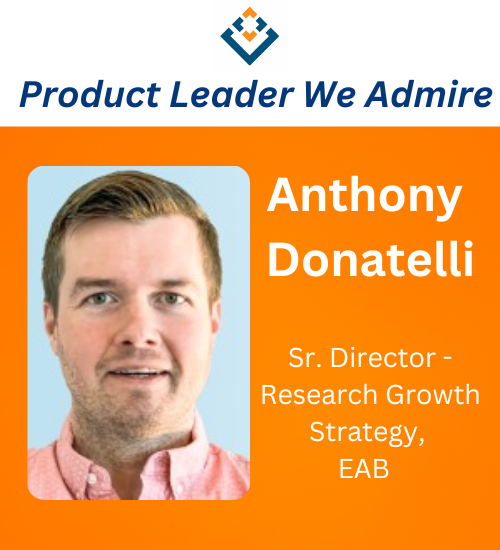 Introducing Anthony Donatelli, Senior Director of Research Growth Strategy at EAB!
Favorite Product Book and/or Podcast:
Anthony: "This is a hard one. I think I actually have two favorites here. Eisha's Productize is certainly a go-to reference for me and something that I ended up getting copies of for our whole team here at EAB. We featured it as part of our book club! The other product book I have grown to love more over time is The Lean Product Playbook."
A Professional Mantra or Guiding Principle:
Anthony: "Dieter Rams worked for Braun from the 50s to the 90s and developed 10 Principles of good product design that I think are still critical litmus tests for anything we make or do in professional services. His 10th principle, less but better, is my Slack status on many days. It is so important to run that test on every single feature or experience associated with a product. In my experience, if something causes an eddy in service delivery or customer experience, you can probably fault a feature or process that is over-engineered."

Best Career Advice Ever Received:
Anthony: "Never blame the user. You made the thing they are using and a design decision you made is causing their problem."

Favorite Product Launch You Have Been A Part Of:
Anthony: "I would say either the launch of CEB's Functional Maturity Diagnostics OR the launch of Gartner for Chief Sales Officers. I loved those launches for very different reasons. The FMD portfolio was an entirely new benchmarking experience that we weren't sure would scale as designed and Gartner for Chief Sales Officers was just pure fun (if you love commercial stuff). My colleagues in the sales practice were some of the smartest people I got to learn from, and taking CSO to market was an unforgettable experience to share...it also was the first product to be developed from Gartner's acquisition of CEB that fit into the Executive Program portfolio."
Connect with Anthony on LinkedIn!
If you would like to nominate a Product Leader in your organization who deserves recognition, please don't hesitate to let us know! We are always looking to feature inspiring individuals in the industry.