Product Leader We Admire: José de la Ossa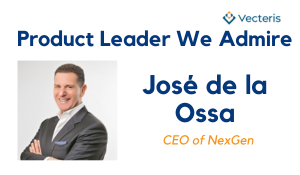 Introducing José de la Ossa, CEO of NexGen!
We are pleased to highlight José de la Ossa as June's Product Leader We Admire! We have had the pleasure of getting to know José over the last several months in our Productize Pathway™ workshop series cohort. José is the CEO of NexGen, an
information technology services company focused on enabling organizations to achieve new levels of performance via digital transformation. They are committed to providing their clients with superb quality and value in the creation of engaging, reliable, and innovative digital solutions.
Favorite Product Book and/or Podcast
José: My favorite product book is Productize: The Ultimate Guide to Turning Professional Services into Scalable Products.
Professional Mantra or Guiding Principle
José: "Stoicism (Wisdom, Courage, Justice, and Self Discipline)"
Best Career Advice You Have Ever Received
José: By embracing challenges and seeing them as stepping stones rather than obstacles, you can continuously develop your skills, improve your performance, and unlock new opportunities for personal and professional growth.
Favorite Product Launch You Have Been A Part Of
José: My favorite is a landmark product launch. The iPhone X, which debuted at the iPhone's 10th anniversary, included several ground-breaking innovations, including an edge-to-edge OLED display and facial recognition technology (Face ID). It attracted a lot of attention and established new benchmarks for smartphone innovation and design.
Connect with José on LinkedIn!
--> https://www.linkedin.com/in/joseantoniodelaossa/
If you would like to nominate a Product Leader in your organization who deserves recognition, please don't hesitate to let us know! We are always looking to feature inspiring individuals in the industry.