Product Leader We Admire: Pallavi Kapnadak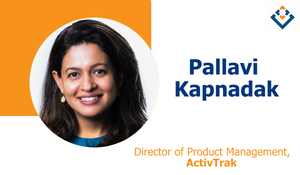 Spotlighting Pallavi Kapnadak!
We are pleased to highlight Pallavi Kapnadak as July's

Product Leader We Admire

! Pallavi is the Director of Product Management at ActivTrak,

an organization that helps digital workforces work wiser and thrive. Their workforce analytics cloud is used to gain insights and metrics about digital work so customers can measure and optimize productivity and wellness with their employees

.
1. Best Career Advice Ever Received:
"If somebody offers you an amazing opportunity but you are not sure you can do it, say yes - then learn how to do it later!" Richard Branson
I have been lucky to have had several great managers who have trusted me to follow this advice and take on new challenges. Their support and confidence that I can succeed by learning the needed skills, independently and by seeking out mentors, has allowed me to pursue opportunities that may have initially seemed daunting. Along the way, such opportunities have often led to broad partnerships and connections with peers in other areas, which provided insight and an appreciation of their work as well.
2. Favorite Product Launch:
Some of my favorite and memorable product launches are from early in my career. I had an opportunity to transition from working on best practice case studies and insights for C-level technology executives to building and launching employee experience products for HR executives. There was a lot to learn – product management principles, product development processes, design considerations, pricing strategies, nuances of HR tech space, the unmet needs of our customers and our capabilities to deliver on the same. It took a leap of faith and required collaboration with several teams to successfully build and launch these products. The experiences of these early product launches paved the way for my future leadership roles.
3. Professional Mantra or Guiding Principle:
Lead with humility and empathy. Humility drives continuous learning. Empathy builds connections and enables value for customers and success for products.
Product managers often have to react quickly to the needs of the changing market by managing a challenging product roadmap. Amidst the pressure to build and launch new features quickly to meet dynamic internal and external stakeholder expectations, it is important to take the time to communicate clearly and understand different perspectives, to be open to new ideas, and to stay humble and receptive to feedback in a way that resonates with customers and the team.
4. Favorite Business Book or Podcast:
A podcast that I enjoy listening to is 'How I Built This' by Guy Raz, where he conducts in-depth interviews with entrepreneurs and innovators on their journey toward building successful businesses in the technology sector and beyond.
Connect with Pallavi on LinkedIn!
https://www.linkedin.com/in/pallavikapnadak/
If you would like to nominate a Product Leader in your organization who deserves recognition, please don't hesitate to let us know! We are always looking to feature inspiring individuals in the industry.