Product Leader We Admire: Purbita Banerjee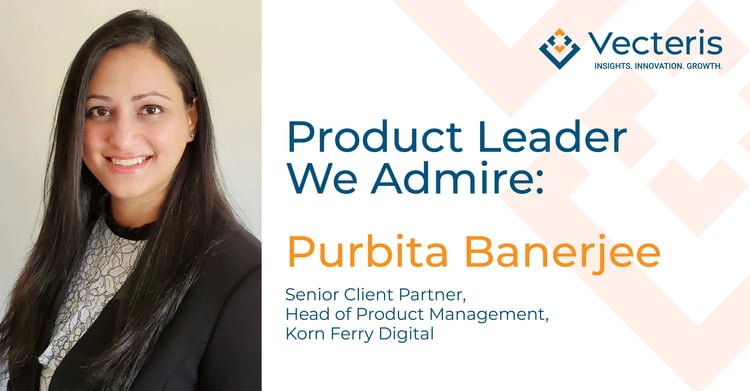 We frequently like to profile Product Leaders we admire to help inspire you and your team. This month, we are excited to introduce you to Purbita Banerjee.
Favorite product book/ podcast:
It may not sound like a product book, but "The Mom Test" by Rob Fitzpatrick is an excellent guide to getting valuable information from customer conversations. It explains how to probe deeper and understand the real needs behind the sometimes superficial conditions articulated by customers. In addition, "The Mom Test" offers excellent practical advice for taking emotions out of customer conversations.
Customers are people, so they'll naturally try not to hurt your feelings when talking with you. But as product professionals, we are trying to go very deep into customer needs and how to meet them. So asking them such questions as, "Do you like our idea?" devalues the conversation because the customer may try to spare our feelings by not being brutally honest. Brutal honesty is the point of product people's ideation and conception conversations with customers. We must guide the conversations to get at rock-solid truth and concrete facts about our customers' lives and world views. This book taught me to search for the truth – not try to be correct.

Professional mantra or guiding principle:
"Humility in Leadership." One inspiring humble leader was A.P.J. Abdul Kalam, the former president of India. An aerospace scientist who led many satellite launch vehicle missions, Kalam practiced what the Harvard Business Review calls "humble leadership" and was known in India as "the People's President." I met him when he judged one of the robotics competitions when I was in engineering college. He was a great but unassuming man – and his thoughts on humble leadership left me in awe.
Humility in Leadership is gaining momentum now, especially in the more humane business world created by the pandemic, but it's not easy to practice. Its basic tenets are:
Leaders can't get everything done by themselves. Leaders can't get anything done by themselves.

The main purpose of a leader is to build and inspire teams.

Leaders listen more and tell less.

Successes belong to the team; leaders take responsibility for failures and offer a safe space for teams to innovate and learn.




Best career advice you ever received:
This continues the theme of "humble leadership." The best career and leadership advice I've received is: A leader aims to become dispensable. It comes from "The Next Level: What Insiders Know About Executive Success" by Scott Eblin.
Many business leaders think of themselves as indispensable. But how can leaders move on to the next challenge if they become indispensable? The best leaders build strong teams and empower them to become leaders themselves. This frees the original leaders to move upward to new, higher-level challenges.
This advice sounds counterintuitive, but it has become the core of my leadership philosophy. I pass it along to my team members who are grooming the next generation of leaders. It's hard to relinquish control, but I've found that leading to becoming dispensable – lifting my teams, so my presence becomes redundant – allows me to focus constantly on the next frontier.
Favorite product launch you have been part of:
My favorite product launch is always the one I'm working on right now. Every new launch displaces my previous favorite.
Right now, at Korn Ferry Digital, we're working on an amazing new product called KF Career. We are focused on " creating pathways to success for humans at work." As part of that, one of the most important goals is to enable non-traditional career pathways within organizations and to offer more inclusive and transparent opportunities for people to grow within the organization.
We've brought together cutting-edge AI with a human touch to drive value for people. We leverage the AI – trained on billions of data points from Korn Ferry's unmatched store of career insights – to create an auto-generated career GPS/Google Map that defines precisely what a work role is and what it means to travel from one role to another.
The entire ride has been fun. We have been working on democratizing access to career opportunities, creating a journey for people, and showing how companies will profit by investing in their people to keep them engaged. So this product launch – my favorite until the next one – is extremely fulfilling because it's a critical element of our overarching purpose.