Vecteris Turns 3! Top Three Things We Are Grateful For!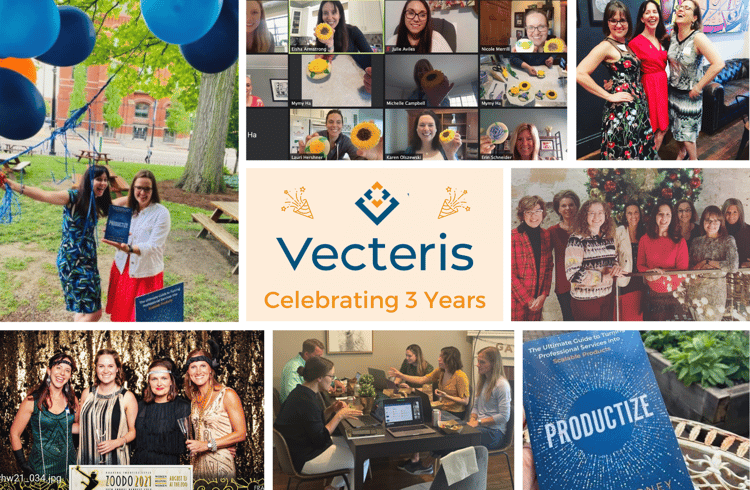 I can't believe that three years have passed since we launched Vecteris at the Women in Product Conference in San Francisco back in 2018! So much has happened and this seemed like a good moment to stop, reflect, and celebrate.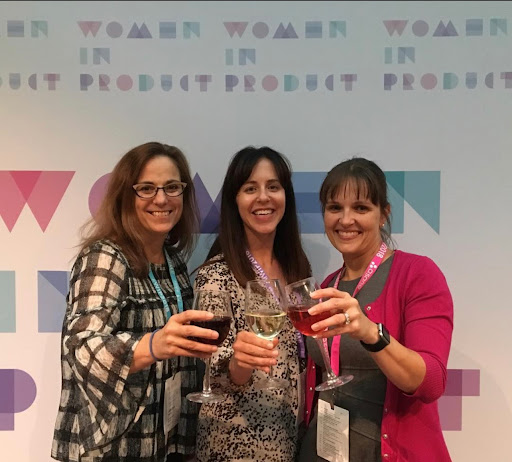 Co-founders Judy, Eisha and Nicole at the Women in Product Conference 2018, San Francisco.
Here are my top three things to celebrate:
1. Our first full-time hire was just the beginning!
In June of 2020, just three months after the start of the pandemic, we had our first official full-time hire. Jaime Drennan was an amazing addition to the team and she expanded our capacity to serve and delight clients by leaps and bounds. Since then we have added three more permanent hires to the team and we are partnering with as many as 12 independent consultants at a time. We have truly developed a team that we love to work with and enjoy spending time with.
We expect to grow even more through Q4 of this year and into next year. If you are interested in being a part of our team, we would love to hear from you!
2. More than half of our customers this year are repeat customers.
Vecteris has grown more than we could have imagined in 2021 and in many ways:
in employees (as noted in #1)
in revenue
in new customers
Even with the number of new customers we have had the pleasure of serving this year, I am even more pleased to note that a full 55% of our 2021 customers were repeat customers. They either came back to us with new ideas or new product launches or simply extended their initial project scope. That repeat business is proof to me, more than anything, that we are delivering on our mission: to help companies build forward-thinking products to positively impact the world we live in.
3. Productize: The Book Launch
I couldn't be more proud and excited for my partner, Eisha Armstrong, and her launch of Productize: The Ultimate Guide to Turning Professional Services into Scalable Products. It was a lot of work and the results are proof of all the effort put into it. The book passed 2,000 copies sold in mid-August and it has continually ranked as #1 in Business Consulting books since just a few weeks after launch in May. Congratulations Eisha, I can't wait to see what comes next!
Get a free copy in honor of our birthday!
In honor of our third birthday, we are giving away three copies of Productize: The Ultimate Guide to Turning Professional Services into Scalable Products to the first three people who email me your favorite B2B products. Include why you selected them! I can't wait to be inspired!