Fearless is Now Available for Pre-Order!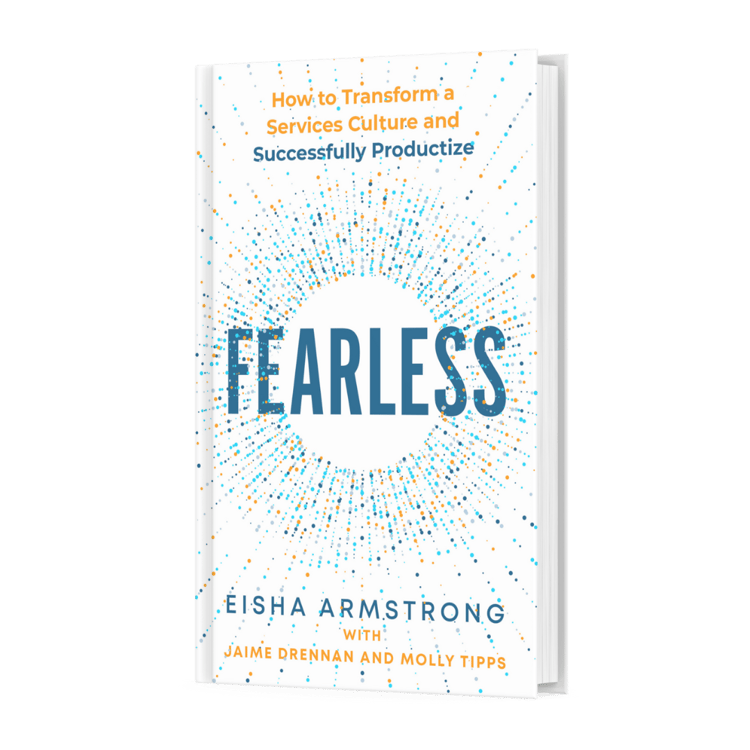 We are thrilled to announce that pre-orders are now available for our upcoming book!
"Fearless: How to Transform a Services Culture and Successfully Productize" is now available for pre-order on Kindle! If you're a B2B services leader looking to scale your business through productization, this is a must-read.
Fearless provides a clear roadmap for B2B services firms to transform their culture and bring successful digital products to market. Building on the insights presented in Productize, Fearless argues that shifting a business model from services to products requires a profound, fearless cultural transformation. The book explains how to teach a Fearless Product Mindset as leaders set a product vision, attract and retain digital product talent in an increasingly competitive marketplace, and create structures that support productization. Fearless provides readers with actionable insights for navigating their organization through this transition and it includes tools, exercises, and resources in each chapter. The book is unique in offering immediately-applicable best practices for B2B services leaders committing to scale their business through productization.
Co-authored by Jaime Drennan and Molly Tipps, we tell the stories of how other B2B services organizations have changed things like their leadership behaviors, org structure, roles, governance processes, metrics and incentives to create product-friendly cultures and, ultimately, successfully productize.
If you are wondering why we chose the title Fearless... our research found that overcoming fear is at the heart of helping your organization embrace a productization strategy. We have to overcome fears like fear of saying no to existing clients, fear of losing money, and fear of becoming obsolete.
Most literature on creating a culture of product innovation is written for readers leading tech-native or product-first organizations—not organizations that are transforming to be more product-focused. Organizations that are not tech-native or product-first, like B2B services firms, face a complex set of conditions—like allocating resources, aligning/selling product within the larger services business, finding product talent who can thrive in a transforming environment, and generating buy-in for product strategy among entrenched services personnel—that are not always at play in tech-native or product-first organizations. Fearless is the only book addressing the specific cultural and organizational needs of B2B services firms embarking on a productization strategy.
To my readers, clients, coworkers, and all the incredible individuals who have shared their stories with me - I am humbled and grateful beyond words for your unwavering support, encouraging words, kind gestures, and thoughtful feedback. It has been a driving force of inspiration and motivation on my journey.
In our busy lives, it's easy to forget the impact we can have on each other. However, your support has reminded me of the profound power of connection and community. I feel privileged to be a part of your journey, and I am truly grateful.
From the bottom of my heart, thank you. Your encouragement means more to me than words can express. Here's to many more adventures together!

Pre-order your copy today and get one step closer to scaling your business fearlessly!
With gratitude,
Eisha