How Product Reviews Can Be a Trojan Horse for Change Management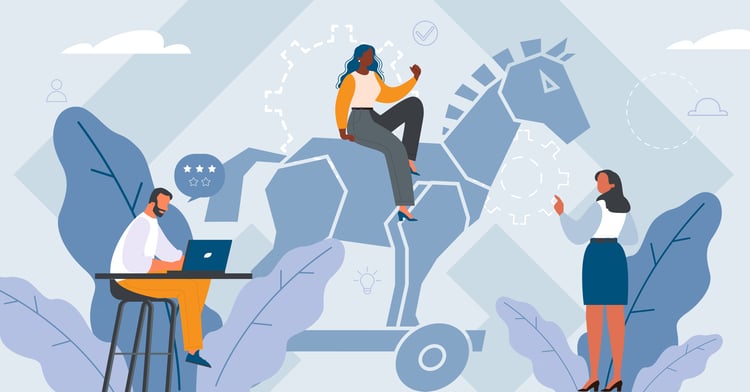 "Our product review board meetings are less about improving the performance of the product portfolio and more about getting people to buy into our productization strategy. They allow people to come with ideas, source ideas, and get involved in the process. They give us a chance to see who is willing to raise their hand, come on board, become true believers, and take that back to their own teams."
Clever.
Too often, I see organizations flounder to implement their product strategy because leadership hasn't fully grasped the extent of the organizational changes they need to make.
Bringing in new talent, changing mindsets, and redrawing org structures all help change the organization to be more successful in executing a product strategy.
In addition, most firms also need to design and implement a smart product portfolio governance process–or the rules, policies, and venues that make product strategy decisions. Governance–typically called Product Portfolio Reviews or Product Review Boards–combined with the right talent, behaviors and organizational structure, can help bring the entire organization onboard with a product strategy by:
Involving individuals from across the organization in ideation and testing
Making product decisions more rigorously (i.e., using ROI more consistently)
Clearly assigning and reinforcing product roles, responsibilities, and resources
Modeling and practicing product-friendly behaviors such as rapid testing and learning, and
Sharing failure, rather than scapegoating any single individual or team
In other words, good product governance teaches and coaches product-friendly behaviors across the organization while making transparent and inclusive the business case for product decisions.
Good governance can also foster fearlessness within organizations. As Alan Kuyatt, Associate Professor at the University of Maryland suggests, governance "can help provide a more balanced approach to move innovation from idea to implementation…this can help manage risk and reduce fear. It also makes the decisions to move forward an organizational decision so that the risk is spread and those spearheading a particular course of action do not become scapegoats if it fails. This also helps reduce fear."
Think of your product review meetings as the fuel that drives a structure, strategy, and vision forward: without it, even the most well-considered product strategies will stall out.
In this article, we discuss how product governance processes drive productization strategies by making better decisions and facilitating change management. We share:
How one global services firm used org structure + governance to overcome resistance to productization in their organization.
What to consider in creating a governance process: roles, responsibilities, and council formats.


How One Global Services Firm Used Governance to Drive Buy-In for Product Strategy
One global consulting firm we work with implemented a clever product governance strategy to help build support for the productization strategy. A consulting-heavy institution, the firm faced strong resistance to productization among the professionals who had spent their careers delivering customized advisory services. Consultants didn't understand how the product strategy could positively impact their work and their clients' engagements. This created problems for the business model, because the firm had planned to bundle products within existing service offerings, rather than sell the products separately. But by implementing an inclusive, consistent product governance process, the firm encouraged product-friendly behaviors across its change-resistant organization while supporting transparent, efficient decision-making.

The strategy: This consulting firm chose to accelerate its productization strategy by buying product companies and outsourcing product functions such as development while working to build internal buy-in for the productization strategy itself.

The structure: The organization created a highly-matrixed organizational structure with a product vertical reporting directly to the CEO. Doing so allowed the product vertical to operate independently from the consulting lines of business, but also required that product teams gain the support of the consulting business to sell products alongside services.

The challenge: A culture clash between products and consulting services. Consultants didn't understand, or in some cases, believe that the new digital products would help improve client satisfaction, and revenue, or make their own work more efficient. Despite the fact that the Head of Product spent tons of time discussing product benefits with the leaders of the consulting service, their engagement with the product strategy remained low and stagnant.

The solution: This firm created a Product Portfolio Review process that invited broad participation in new product ideation and promoted the visibility of new product development across the organization. Making savvy use of Amy Edmondson's insights on invitation from her book The Fearless Organization, the firm created a product review process that includes any employee, regardless of the line of business. Anyone at the organization can now come to the quarterly Product Ideas Council and make a product pitch, with an accompanying high-level business case. If the firm receives many ideas, the Product Ideas Council may meet more often.
Once pitches go through the Product Ideas Council, the Implementation Council meets to allocate resources to the idea, including project management, marketing, and a product exploration budget. Then it is funded and launched.
This company also hosts a quarterly Product Webinar to the entire global firm to communicate the impact that products have on the organization and its clients and customers. The webinar's purpose is to interest consultants in incorporating more products into their engagements by illustrating value, rather than mandating that consultants insert products into their existing engagements.
Since implementing the new process, product revenue has returned to growth and grown 14% year over year.
Creating a Consistent Governance Process
Governance processes work best when roles, responsibilities, and venues for decision-making are clearly defined.
Leadership can begin by answering the following questions:
→ What is the scope and mandate of the product governance councils? Do councils review new product ideas or focus on existing product performance or both? What is NOT part of the councils' purview? What information will be required as input into council discussions and decisions? What metrics?
→ Who should be in the product council(s)? Have you made clear which individuals are accountable, responsible, consulted, and informed? Refer to your org structure, and think carefully about how reporting lines impact these role assignments. Think beyond the product vertical: product councils work best when they are cross-functional. For example, we strongly suggest including delivery/consulting, sales/marketing and even a representative from HR.
The accountable individual–and there should only be one accountable person
In the product vertical–is ultimately responsible for the success of the product and/or task. Typically, this is the Head of Product, who leads a product category or product for the organization (and has product managers reporting to them). They thus hold the authority to make the ultimate go/no-go decision on new product investments for their budget area.
Responsible person(s) are in charge of action and implementation: completing tasks and programs. Responsibility can be shared. Examples might include Product Managers, Marketing, Tech/development, and even consulting/delivery if it will be sold as a product bundled into existing services or alongside existing services.
Consulted person(s) or groups of people should be included during and also prior to a final decision or action, or for details and additional information. Folks in these roles have unique, relevant insights to share, and include finance, sales, and HR. .
Informed person(s) or groups need to be informed during the process and after a decision or action is taken: these are folks at all levels who need to be consistently updated. This typically includes sales and consulting/delivery.
→ How many council(s) do you need? Does your firm need to make separate time for both new concept review and existing product roadmap or can these conversations happen in the same venue?
→ How often should the council(s) meet? Base this answer on your product strategy vision. For example, if you are currently innovation-focused, you may want monthly meetings to keep a close eye on new product leading indicators and lessons learned.
Be Consistent
Setting aside the time to design and test a product governance process can take some time–but in the long run, the process should help alleviate time spent fruitlessly spinning wheels. We often see clients who initially struggle to implement their productization strategy see real improvement in the quality of ideas pursued and more efficient use of product resources after six to twelve months of consistent governance. Objectives typically include: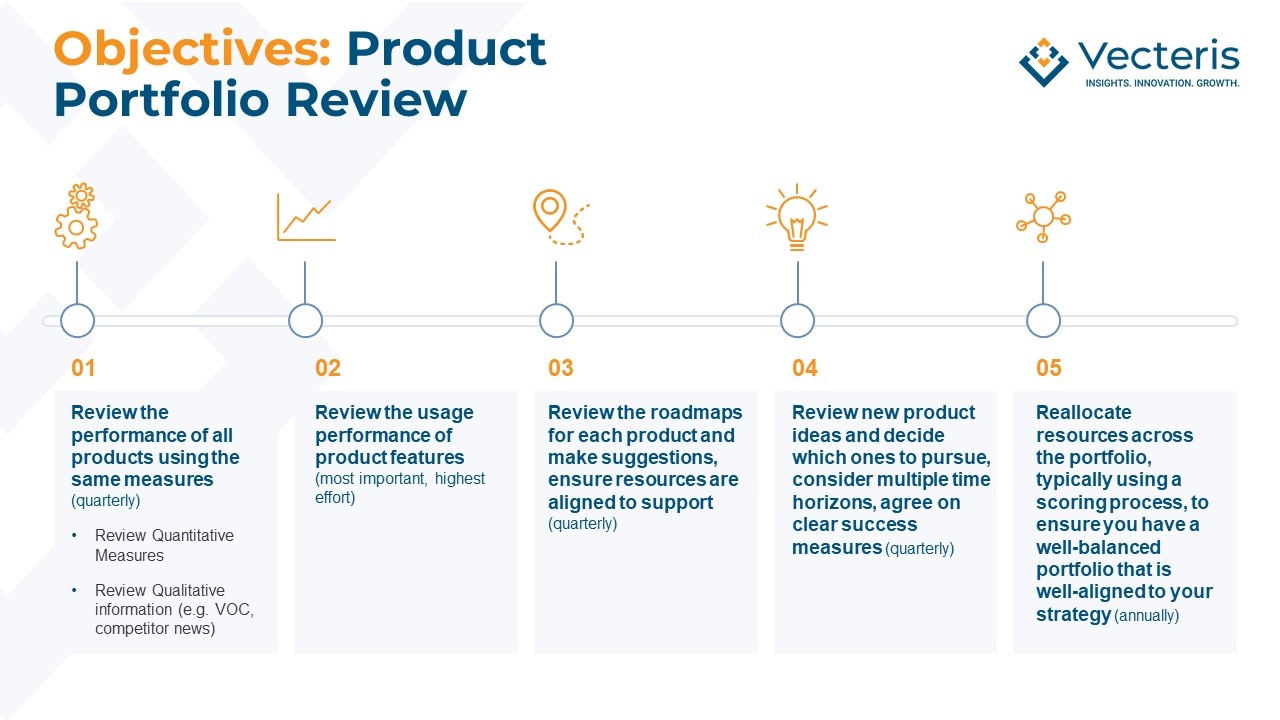 Product Portfolio Review meetings should follow a specific, focused agenda and cadence.
One organization dramatically improved its capability to productize within a year of regular product governance meetings and processes. Before implementing a product governance process, the company struggled to align on a definition of a product, let alone performance measures and budgets. After implementation, the leadership team aligned on a clear definition of a product decided what measure to use to screen and evaluate products, and set product goals. Every stakeholder (accountable, responsible, consulted, and informed) understood where they were going and how they wanted to get there.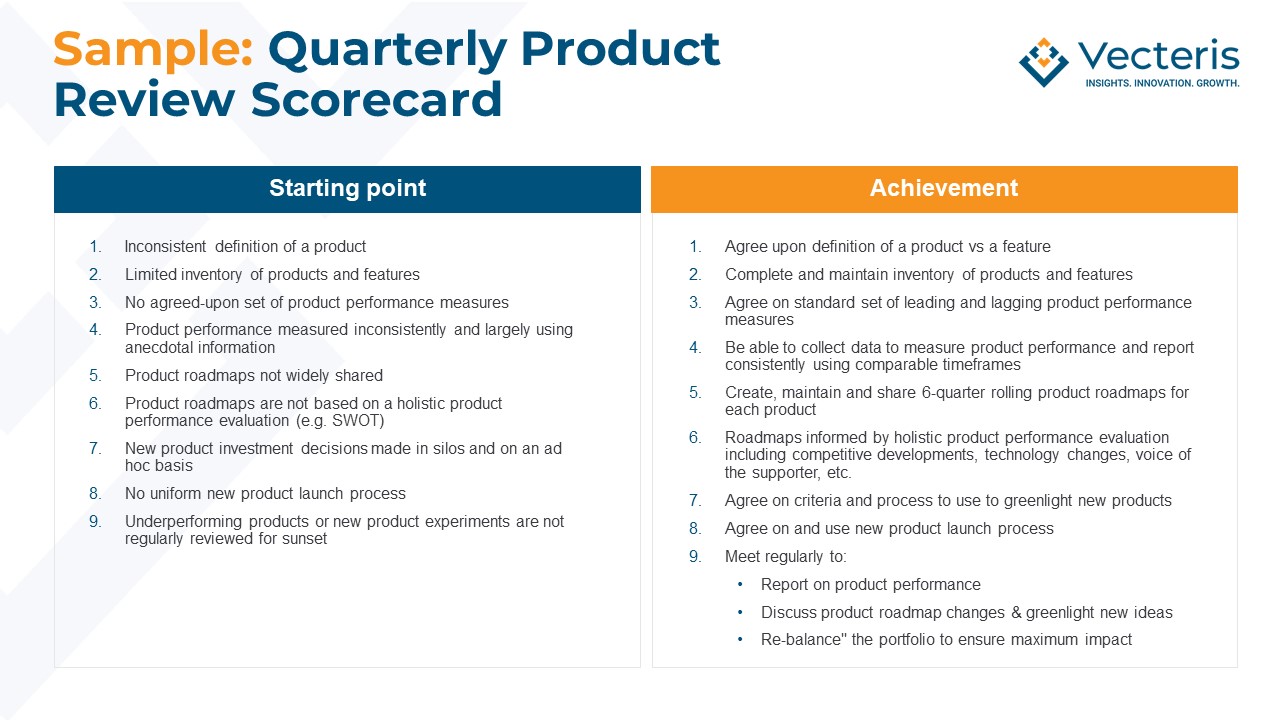 One important caveat: When over-designed, governance can become "innovation theater."
Instead, Product Portfolio Reviews should be purposeful and actionable. Governance is designed to support innovative work by ensuring that the best ideas are heard, vetted, and shared.
Governance processes should be specific to your institution and product strategy–we can help you craft a process that puts your strategy and organization into gear. Please contact us if you would like help.