Your Product Management Dream Team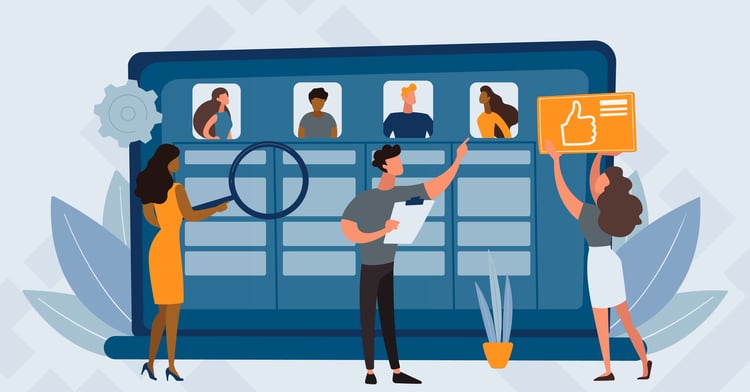 Whom to hire—and when to hire them—to score big product wins.
Note: My 14-year-old son is an American football fanatic. It is interesting because no one else in our family likes football, but from a very early age, he has had a passion for following the sport and has tried to bring the rest of us along. He runs a family fantasy league that various extended family members and I participate in. I try to take him to one live NFL game a year, and NFL Redzone plays on the TV all day on Sunday. I mention all of this as background because I will use a football metaphor to structure this article and want to acknowledge his role in helping me understand the sport. Now, onto product management . . .
Clients frequently ask for our help crafting job descriptions for their product leadership and management hires. Our clients want to know how to structure positions and when to make these hires. Just last week, I spoke with one client who offered sound advice:
"If you can't execute your product vision, find someone who can or don't do it. Don't try to productize unless you have the talent to do so."
Her point is well taken: most B2B services organizations pursuing a product strategy will need to hire product talent–an initial hire who sets the tone for the strategy at the outset, followed by team members who fill essential, often specialized roles as strategies mature.
In this post, I describe the ideal Product Dream Team for a B2B Services Organization: the key players most firms will eventually need to manage a healthy digital product portfolio. I explain how each of the following positions ultimately works together to achieve big product wins:
Head of Product, Initial Product Manager

Subsequent Product Managers

Product Owners and Analysts

Cross-Functional Specialists
I also discuss the sequencing of hires because more mature product strategies require greater specialization across new product development and existing product management.
Sample Cross-Functional Product Team at a B2B Services Organization
The Quarterback: Product Leadership
Many B2B services organizations begin by hiring a Head of Product (HoP) for their flagship product. The Head of Product is the quarterback for the product strategy: in collaboration with leadership, the HoP identifies market opportunities, determines the product roadmap, and coordinates the many positions that help a strategy succeed.
As Julia Austin, writing in Harvard Business Review, argues, this hire must exhibit strong business acumen, technical credibility, and strong people skills. The Head of Product for a B2B services firm needs better stakeholder management skills than what might normally be required at a tech-native/product-native organization. Product leadership at these kinds of organizations needs to develop strong relationships with the core business services delivery and sales staff, product development teams likely to be outsourced at first, and senior leadership.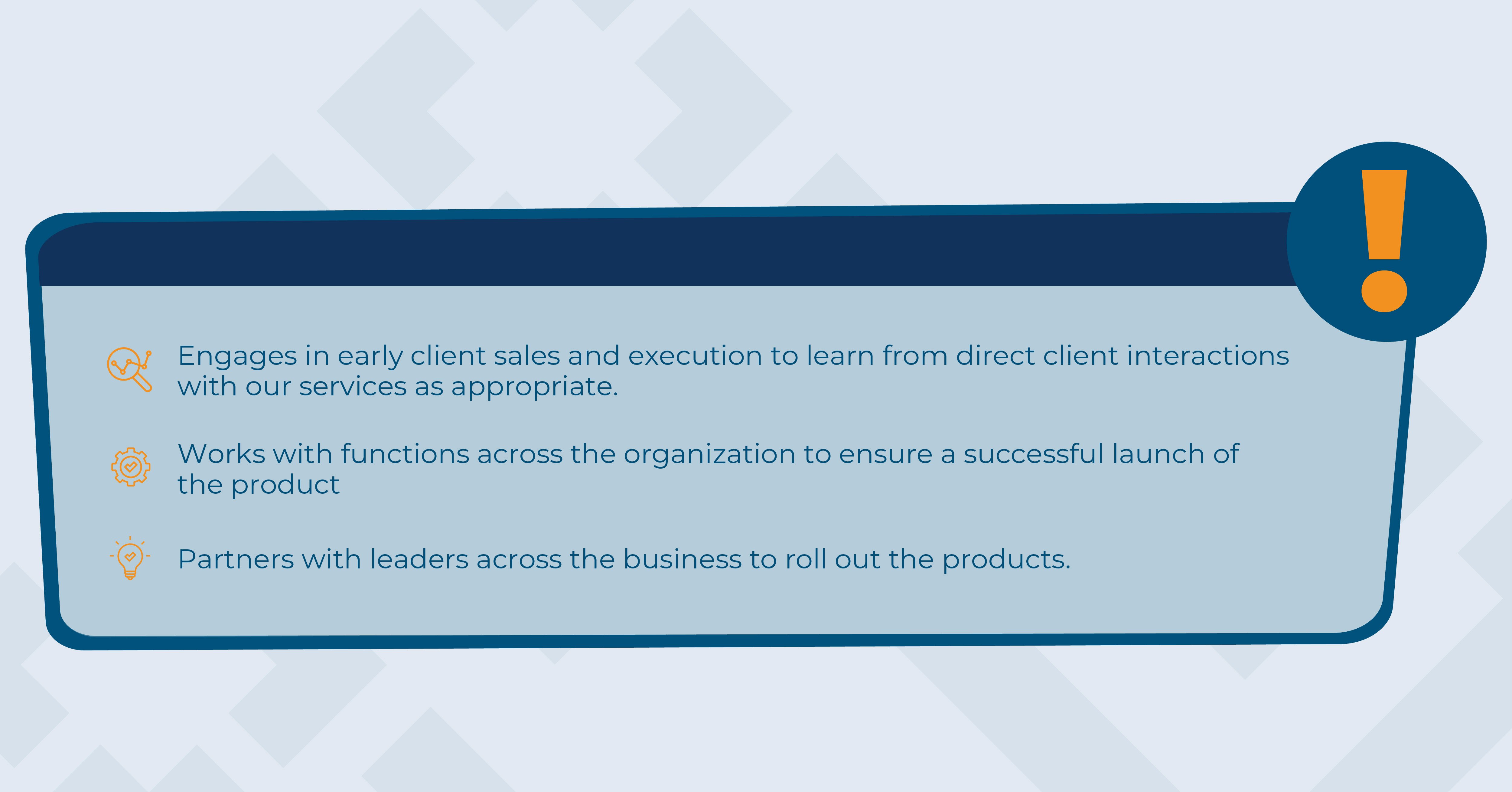 Good language for stakeholder management responsibilities in a Head of Product job description at a B2B services organization.
Like a quarterback that is willing to scramble for the touchdown or catch a pass on a trick play, the product leader needs to be a fearless, nimble player who has enough capability in people and product management, data analytics, and digital fluency to spot and capitalize on product opportunities even as the rest of the team is put into place.
I recently spoke with one Chief Product Officer, who stepped into the position as an existing employee and had never developed software before. He admitted that more software development experience would have been beneficial for both him and the organization. But this leader's superior people skills and market orientation (i.e., thinks "one to many", rather than "one-to-one") made up for his technical inexperience–and his willingness to learn quickly served him well. Under his leadership, the company successfully transitioned from a consulting-only organization to a software company exclusively offering digital products.
Part of his successful leadership included putting the rest of the team in place. In addition, he hired key players and sought product talent within the existing organization to fill the following positions.
Receivers and Running Backs: Product Managers
Once a product portfolio grows, organizations need to make additional Product Manager (PM) hires to support ongoing new product development and manage existing products.
Like offensive receivers and running backs on a football team, both need to be able to see the ball, anticipate opponents' movements, and make first downs; these players need similar skills, especially business acumen and technical skills. But they also require slightly different skill sets depending on the emphasis of their position.
PMs responsible for new product concepts will need more robust market analysis, stakeholder management, and commercial acumen skills–they look similar to Ravi Mehta's Product Innovator archetype. These PMs will identify and capitalize on new market opportunities and create unique, even disruptive products within the industry.
PMs overseeing existing products should exhibit data analytics skills to understand product usage data and technical skills to ensure that upgrades include the most efficient, cutting-edge tech. They score through iterative, well-tested product updates that continue to be relevant to customers' changing needs.
Offensive Line: Technical Product Owners and Product Analysts
The best quarterbacks, receivers, and running backs need support from a stalwart offensive line to be successful. For larger organizations or products that have grown to represent significant revenue, Technical Product Owners and Product Analysts provide this support, delivering the right technical solution or information at the right time to ensure that a product continues to serve and delight customers.
Typically reporting to the Chief Technology Officer and the Head of Product, the Technical Product Owner is responsible for the design of software/tech for a particular product. They transform ideas and requirements into prototypes and then final designs. They also collect, review, and report key user data to validate design decisions.
Product Analysts usually report to a Product Manager or Sr. PM, as assigned, and are responsible for all data collection, reporting, and analysis concerning business case development, customer success, onboarding, usage, and troubleshooting. The data they provide is essential for shifting the strategy for product portfolios. Like good offensive linemen, they support the play of the entire organization and are often shared resources among product innovation and existing product management.
Special Teams: Product Marketing Managers and Solutions Specialists
Special teams are an integral part of a productive offense. For example, at larger firms, or as products grow in revenue, organizations will want to invest in creating roles for specialists from marketing and sales to execute the go-to-market strategy and to provide sales support. Although these players typically report to different departments within the organization, Product Marketing Managers and Solutions Specialists should be contributing members of cross-functional product teams.
Product Marketing Managers typically report to Marketing and Communications, but they develop and execute the marketing strategy for the product, including but not limited to channel selection, content and messaging, and performance analysis. They may also oversee market research, especially survey or secondary research. Often, Product Marketing Managers are a shared resource across several products.
Solutions Specialists (aka 'Sales Engineers' or 'Product Sales Support') report to Sales, but they support product sales by demonstrating the product and answering customers' detailed questions. Their feedback to the product team is essential during the design and pre/post-launch phases: they glean valuable insights into packaging, pricing, user experience, and customer needs that can be reported back to the product team.
To put the right team in place, leaders need a good understanding of their staff's existing capabilities and the still-demanding marketplace for product talent. Vecteris has helped many services firms find the talent to launch successful products and scale their businesses.
Grab a virtual coffee with Nicole Merrill, CEO, to learn more about how we can help address your organization's talent needs.